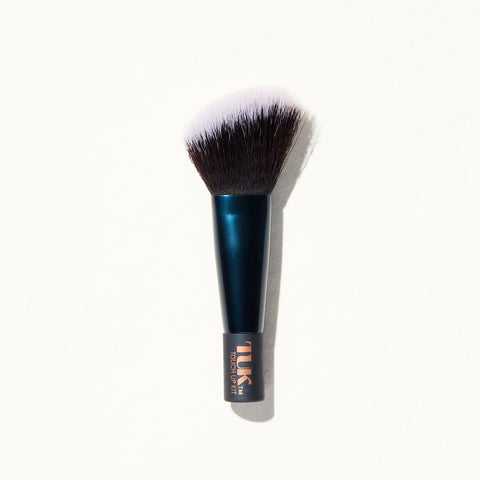 Blush Brush
Hand-crafted with ultra-soft synthetic hairs and is 100% vegan, cruelty-free and ethically sourced. You can purchase separately or in the five premium set designed for ultimate convenience and control so you can create the look you desire with ease.
Expertly angled, use this blush brush to apply and effortlessly blend our Multi-Cream to your cheeks or the hollows of your face to define and accentuate your best features.
Features and benefits
– Vegan and Cruelty Free
– Medium-Full coverage
– Long lasting– Nourishing
– Natural finish
– Suited to all skin types
– Formulated in Australia
Ingredients




penetrates the skin and has the ability to help skin repair itself, leaving the skin incredibly soft. It is a vegetable ingredient obtained from coconut.
wax adds texture, improves consistency and prevents the skin from sweating. It is a high-melt temperature paraffin and provides flexibility and elasticity.
binds and stabilises products and enhances product texture. It is a wax derived from a mixture of various oils.
Synthetic fluorphlogopite
enhances skin tone and thickens cosmetic products. It is a synthetic mineral material.
brings shimmer and shine. It has a natural luster and can be milled into a fine powder. It is a naturally produced product.
aids in preserving cosmetic products and preventing the growth of fungi and bacteria. It is a preservative found naturally in green tea and chicory and is a nature identical chemical, safer than parabens.
Isopropyl titanium triisostearate
forms a coating that helps to disperse pigments. It is a synthetic ingredient used as a surface treatment.
Disteardimonium Hectorite
provides a smooth, silky feel and is used to thicken products. It is a type of organic clay used in cosmetics to enhance texture.
works as a buffering agent, corrosion inhibitor and pH adjuster. It provides anti-caking support to cosmetic products.
benefits the appearance of skin and is used for its skin-conditioning and antimicrobial properties. It is derived from vegetable glycerin and is a far safer alternative to parabens.
help to tint cosmetic products and protect the skin. They are compounds composed of iron and oxygen and are non-toxic, non-allergenic and extremely safe to use.
is used as a UV filter, blemish hider or skin-brightener and is a naturally-occurring mineral found in the earth's crust.